Customer Feedback
Epic Band Party night with Frantic City!!!
They rocked the house and had everyone up and a Dancing for hours! Chris was so great to work with and they were very accommodating and most of all were super talented musicians! Their set list was amazing and they read the crowd perfectly! Wish I could hire them every weekend!.
Sheri L. from Ridgefield, CT on 8/7/2021
You CAN'T do better for your event's music needs!
Hell of an evening with Frantic City (Chris Stacy and Remo) performing for our sons wedding reception / Lobsterbake this past weekend. Showing up early for setup....they had so much equipment thought they would need a roadie crew...and now know why. Sound, light, pre show and set break tunes ....you would think you were at a concert somewhere as all expertly put together. Great setlist and talent and I cant believe only 3 of them putting it out.......Beatles thru Dead.... Classic rock for all ages and tastes. The crowd wouldn't let them leave with millenials thru grandmas dancing their asses off....and the band obliged and kept on playing well beyond their contracted time. I think they were having as much fun as the crowd. I 110% recommend them for your next event...you will not be disappointed! They'll be back for mine for sure.
M. Giuliano. from Milford, CT on 7/31/2021
I Loved this band!
They were amazing. So professional and respectful. The guitar solos were off the hook. They honored all my song requests. We danced all night long. I would hire them again and again.!
Catrina L. from Southington, CT on 7/17/2021
Frantic City rocked our party!!
They were professional & amazingly talented. Days later guests are still contacting me to rave about the band and have requested they bcome part of an annual tradition. They were awesome and I highly recommend to anyone who wants to rock!!
Liz W. from New Canaan, CT on 7/10/2021
Flawless execution for July 4th Party!!
Wonderful experience! The band as a whole is just awesome! Incredibly talented 3 piece group that comes well prepared with real equipment and great energy! They without question can rock out any event with a mix of classic and modern rock! Chris was great at communicating. He kept things easy smooth and timely. He sings like a bird and absolutely shreds his guitar while walking about the crowd and keeping everyone entertained! He even played with his teeth! All his solos were incredibly accurate and impressive! The drummer, well she was just fabulous because all the songs sound just like the album. Her and the bass player are incredibly tight with the bassist laying down some solid back up vocals! What more could you ask for? Friendly, talented and well prepared. If you're looking to impress your guests, there's no need to shop around. JUST BOOK THEM! They made my July 4th party go down in history with my family friends and neighbors! Thank you guys! You're the best! Five stars all day long! Hopefully we will see you again next year!!!
Hunter T. from Danbury, CT on 7/5/2021
Wow Absolutely Amazing performance!!
This band is the real deal professional from first contact Chris came by a few days ahead to do a walk through they showed up early to set everything up unbelievable sound system and equipment truly professional really nice lighting equipment also they interacted with the crowd a guitar solo all throughout the property I keep getting calls and text from everyone that was there saying how unbelievable the band was highly recommended Frantic City for any event you want to have an awesome band that makes it an unforgettable event Thank You Frantic City we will definitely be hiring you again !!!
Anthony M. from Shelton, CT on 6/26/2021
Perfect Choice for our daughter's Campground Wedding!!
What an excellent experience hiring Frantic City through GIG Salad. I was looking for a band for my daughter's campground wedding when I discovered GIG Salad in my internet search. I touched base with a few bands and decided on Frantic City after reading their reviews and hearing their demos online. Chris (the band's lead) was a pleasure to work with and the music and entertainment was enjoyed by all. If your looking for a classic rock/80's rock band that your guest will love, this is the band for you. So accommodating and great tunes all night long.
Bonnie A. from Bozrah, CT on 6/18/2021
What an awesome experience all around!!!
Huge thank you to Frantic City for a stellar gig. Incredible vocals, sound & song selections. Would definitely book again and recommend! They were also super accommodating as we shifted the time to mitigate with the sun and heat that day.!
Krysti A. from Pleasantville, NY on 6/5/2021
EXCEEDED EXPECTATIONS !!!
From the E-mail communication to the actual performance Frantic City are nothing less than professional. They are accommodating, friendly and talented. They played in a two door garage for our backyard wedding, talk about Garage Band! All the members shred their instruments and the vocals are incredible. People are still texting me about the party/band. Can't wait to get my video and pictures to share with them! Awesome find looking through GigStand. FIVE STARS!
Francesca M. • August 23, 2020
We all can't thank you enough for helping to make our Halloween party a huge success! On behalf of The Bozzuto's and of course myself and our guests you all were totally awesome. I can't even count how many people came up to me and said they were so impressed by the band and you all rocked big time. Glad you and the band had fun! Hope to see you soon and Happy Halloween!
Cindi - Halloween Party North Branford Ct 10/26/2019
Frantic City was amazing! They rocked all night from Beatles Clapton to Green Day with dj music and lighting. Very talented band !!
Birthday Party - Milford CT, Saturday September 21st 2019
"We hired Frantic City to play our wedding in September and it was one of the best decisions we made. They were decidedly not a wedding band, which was what we liked about them -- fiercely authentic and supremely professional, they brought so much energy and fun to the party, playing one banger after another. We've been flooded with compliments from friends and family about their performance -- now it seems everyone is trying to come up with future events to hire them for! They were proactive and prompt in communicating before during and after. They also learned and coordinated a surprise live number with my sister, which was a true highlight. I can wholeheartedly recommend them for any event you want to rock."
Grace and Michelle. Wedding Celebration - Warwick NY, Sept 14th 2019.
I wish i could give them 1000 stars, these guys (and girl!) rocked it. You can not beat the energy they bring and the overall performance. I will without a doubt be using them again and i would HIGHLY recommend them to anyone for any occasion. Franticcity ROCKS!!!
Matthew C. Stamford CT. Sept 9 2019
What can I say except...AWESOME! The band was beyond professional, accommodating, and they ROCKED!!!! Recently threw a 30th birthday party for my wife - loved that they could do live sets and then switch to DJing with my own playlist. Many of my guests are still texting me about what a great time. This band is the real deal - just hire them! Chris, is beyond amazing and I can't say thank you enough for a day and party we will never forget! Awesome, Awesome, and Awesome!
Christopher B. Monroe Ct Aug 26th 2019
Frantic City were the best!! They were on time (a little early even), professional, fun, cool, and oh so talented!! Our guests loved them! We can't wait to plan another party and have them come back!! Thank you for making our party (and my birthday) awesome!
Robert B. Durham Ct Aug 17th 2019
Frantic City was the perfect band for my event. From the quality of their performance, choice of song list and overall professionalism.
Their performance is top rate and the musicians are masters of their instruments.
Besides their performance-which I cannot say enough about-my event had multiple bands and they were on time, set up and take down were smooth, easy to communicate with, and interacted with other bands with extreme professionalism.
I hired this band and this band worked for me (which is not always the case)
Frantic City will be at the top of my list for future events and highly recommend others to do the same- you won't regret it.
Donnie K. Lagrangeville, NY 12540 Aug 3rd 2019

Great Band!
Excellent sound, very talented musicians. Everybody enjoyed them and I would definitely book them again!
Lance L. Bridgeport, CT July 27th, 2019
We hired Frantic City for our annual 4th of July party it was the first time we hired a live band so we were a little worried how it would turn out. The band was very professional and everyone enjoyed their performance, it turned out just as planned. The party was made that much better and they didn't fail to deliver. In fact, many people had asked for their business cards to potentially use them for their own events! All in all we are very happy and satisfied with our choice to book Frantic City for our party! Thank you again!
Ken L. Southbury, Ct July 3rd, 2019
Hi Chris!
Thanks again for the spectacular show and helping to make our wedding a blast! Everyone was raving about you guys, thought you'd like to see this Fb post (don't worry I put your website in the comments for them!).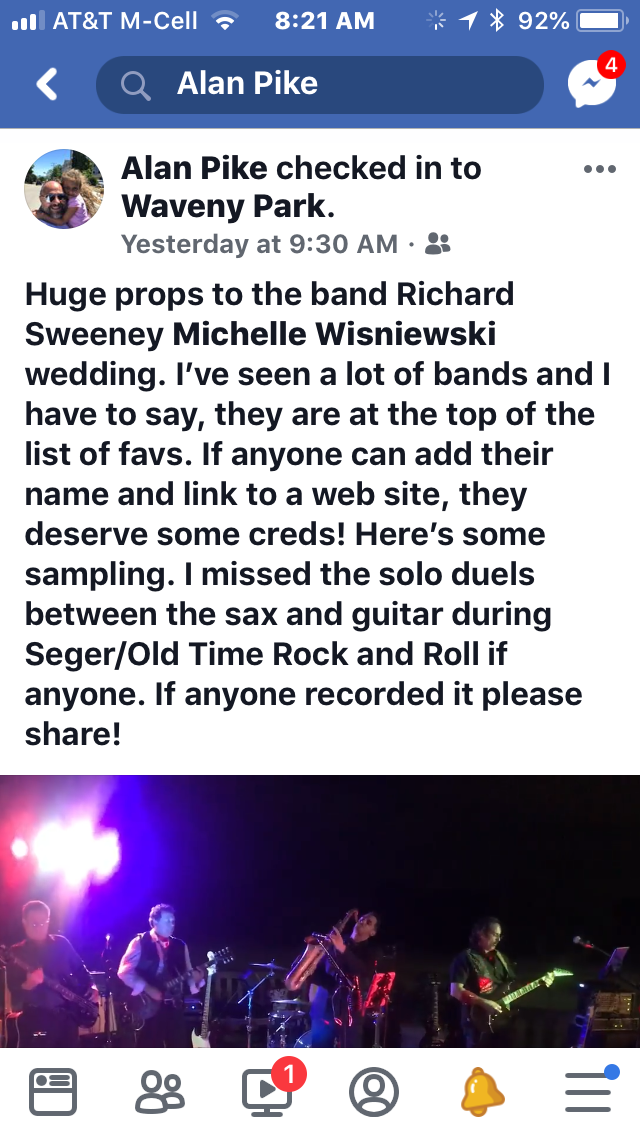 Michelle W. New Caanan Wedding CT • Sept 22, 2018
Amazing!!!
Saying they were outstanding, doesn't do it justice. We knew every song, most of which being the best cover we've heard of these songs. They played right to the audience, even going down into the crowd and litterally playing in front of each person in order to get them excited. Quality and sound was perfect, and it was nothing but a pleasure to work with this group. We will be booking these guys for next year! And will also be personally going to their local shows!
Paul M. Bethany Lions• July 29th, 2018ws!
Frantic City is a phenomenal wedding/cover band. They know how to bring the party, read the crowd and bring a great atmosphere to whatever event you choose to have them at. From 80s metal to classic rock, to great alternative music from the 90s they bring a diverse but fun variety of music. There's something here for every generation.
My wife and I had them play our wedding and they were not only fantastic musicians who know their crafts well, but are genuinely great people who made our wedding a memorable one. They took requests, were very flexible, professional and made the night easier on everyone involved. They catered to the mood and made it a fun, unforgettable time. If you're looking for a different kind of wedding band that brings the rock. Hire Frantic City, you won't regret it.
- Jesse and Kaitlin. • April 14, 2018, Branford, CT
Fantastic Event!!
Thank you so much for a fun night at our Black Light Party! The crowd danced the whole night!!
- Jan H. • September 11, 2017, Newton, NJ
Can't say enough about how great Frantic City is!!
It's been a week since our party and people can't stop talking about how great the band was! These guys are truly amazing. From the time I booked them the communication was excellent. Chris emailed me several times and made sure all the details were worked out prior to the party. They were prompt and set up 2 hours before they were scheduled to start. And then.. they rocked!! They sounded incredible and they kept the party fun and upbeat the whole night! The crowed was singing along to all their songs and everyone wanted to know where I found them. I'm hoping to book them again next year.
Thanks Chris, Stacey, Dan, & Mike! Looking forward to seeing you again.!
- Bryan B. • July 1, 2017, Westport, CT
We hired Frantic City again!!
We hired Frantic City again for another party because they were SO great at our first one. Once again Frantic City delivered! Chris, Stacey and Remo are fabulous! They are all so very talented and sound like a larger band; Chris even hopped off stage and played his guitar throughout the crowd which was amazing. They are all very nice and want to help you make your party a success. Everyone had a great time and danced out on the lawn for hours. If we have another opportunity I will most certainly hire them again. Thank you Stacey, Chris and Remo for an AWESOME evening!!!
- Elizabeth S. from Westport, CT on 6/17/2017
A HUGE rockin' sound that will keep you dancing!
If you want some real rock for your wedding or event, look no further - Frantic City Band has covers so great, I swear some are better than the originals. Working with Chris ahead of time, through emails and a lunch meeting, we were able to come up with a vision, playlist, and logistics for my wedding. His energy is contagious, and professionalism on point. On the big day, they were able to DJ a great mix of songs for cocktail hour and mealtime. Then the live music blew everyone away! Guests of all ages were on the dance floor, having an amazing time. The songs were a mix of 70s - 90s rock, so nearly everyone was singing along. No cheesy chicken dance for this wedding! Chris and Remo and Stacey have such great talent, and a great knack for hitting the right voices and tone for the songs they are playing. Their rendition of Highway to Hell (my dad likes to say it's his own wedding song) was a huge hit! The only problem was I wish we had more time to listen to them play. The combination of their sound, attitude, and showmanship (Chris played the guitar behind his head at one point) make them an unforgettable experience. I can't say enough about what a fantastic band they are, I'm already scheming what events I could hire them for in the future, and would recommend them to anyone looking for great rock music.!
- Brigette Z. Wedding St Clements Castle • June 6, 2017, Portland CT
Chris, Stacey and Remo were FABULOUS!! We held an outdoor party for about 100 guests and Frantic City was the highlight! They sounded awesome and got all the guests up and dancing. We want to host another party just to get them back. From the very beginning Chris made it super easy to communicate with them about their playlist and other details. He was organized and really helpful. Thanks guys, you're the best!
- Elizabeth S.. 8/20/2016 Engagement party, Westport, CT
Frantic City was awesome. Chris was very personable and worked with me in every aspect of the party. My guest loved the range of music played, and handed out several business cards to friends after the party! I would 100% hire them again for an event.!
- Christina F. 7/9/2016 40th Birthday Party Killingworth, CT
Hello Frantic City . Its Chris and Natalie. Thank you all for making the trek to Sayville, Long Island. You were everything you promised and more. You kept our party rockin. So many of our guests are raving about you. They all ask-- where did you find them? How do you know them? Everything worked out great. Hope you returned home safe. All of you received compliments seperately and as a group. Thank you Chris , Stacey , and Remo for helping make my 50 th so special. Rock on. Thanks again, . !
- Chris n Natalie. 7/25/2015 50th Birthday Party, Sayville, Long Island
Frantic City played for our reception party and were fantastic. Chris was very accommodating and flexible with all of our last minute requests and changes. They were very easy to work with. They sounded excellent and I got a lot of compliments and questions on how I found them. Several of my friends got their contact information for future parties! If I ever have an event again that calls for a live band, I will definitely have Frantic City come back. Very professional and a lot of fun!
- Robin O. 6/27/2015 Wedding Reception in Norfolk Ma, 6/27/2015
You guys sounded awesome and everyone loved the show. A lot of people asked about the band & were super impressed. Thanks for playing "we're not gonna take it" for Colin too. He said he was all excited to hear it live and then he ran for the hills! I think he couldn't handle the limelight = )
- Amy & John Wedding Reception in Shelton, CT on 8/30/2014
Frantic City is amazing!! They did a great job for our party. Very professional yet personable. Great people, great time, fantastic music! Thank you Frantic City for making our night special!
- Danielle Y Graduation Party in Brookfield, CT on 6/28/2014
Frantic City did an amazing job entertaining a very diverse crowd. They are extremely talented musicians AND entertainers. I highly recommend Frantic City. The Hartford Windsor Marriott staff also complimented Frantic City on their professionalism. Chris was professional, flexible and accommodating when working out the logistics for the evening. If you want a band that will blow you and your guests away then hire Frantic City!
- Haideen S.,Connecticut Ski Council's Annual Snow Ball - Saturday, 11/16/2013, Hartford / Windsor Marriott
Frantic City performed for our wedding reception and exceeded our expectations. The talent, professionalism, and flexibility of the band blew us away. Chris really worked the crowd and got everyone on the dance floor. We highly recommend Frantic City to anyone looking for a great rock band!
- Alex W.,Wedding Reception Amarante's, East Haven CT on 6/1/2013
Wow! Frantic City is kick-ass! We love rock music so we booked them for our wedding after-party. At first, we were nervous since we never heard their music before. That aside, we can say only great things about FC. From song to song, they take on totally different styles/sounds with seamless transitions & range...very impressive with only 3 people. Our guests LOVED them & they were the highlight of our party. We're thankful to FC for their energy/passion & learning some songs for us. We highly recommend them & you WILL get a fantastic & professional show. FC made our wedding much more than we imagined!
- Vijay P.,Wedding Reception in Big Indian, NY on 10/27/2012
They were great to work with!
- Emily W.,Wedding Thayer Hotel in West Point, NY 09/08/2012
These guys rocked! We had a great time and they were very professional and courteous every step of the way! I'd hire Chris and the band again in a hot minute. Thanks Frantic City!
-Elizabeth L, 5/5/2012, Bar Mitzvah, Pittsfield, MA
It has been two weeks and I am still getting compliments on the band. They were fantastic and I would hire them again without a second thought. If you have a chance to see them play or a chance to hire them for your party, you would be crazy not to!!
-Julie Z, 10/15/2011, Halloween Party, Medfield, MA
This band was great! Show up on time. no maintenance. great talent. 3 member rock band, and still 12 hours later the songs are ringing in my head. Would hire again and recommend...
-The Glastonbury Elks -- Jim S, Glastonbury, CT, 9/9/2011
My fellow campers could not stop telling my wife and I how great they were.Hope to see them next year.
-Gary B, Winsted, CT, 9/3/2011
Frantic City was awesome. Thanks for a fun, rocking evening.
-Haley F, Chappaqua, NY, 6/3/2011
Frantic City were great. Band is super tight and full of energy. Terrific performers whether room was full or not. They were very easy to work with, patient with last minute timing, and adjusted to varying needs at the event. Most importantly they are great musicians and a lot of fun to have playing an event. Very, very satisfied.
-Christopher R, 3/27/2011, Bar Mitzvah, New York, NY
With all the great comments about you guys after your performances this year we would certainly love to have you back again next year. Would July 4th Weekend be good for you? We could do Saturday the 2nd or Sunday the 3rd, whichever works better for you.
Please let me know when you can. Thanks guys!
-Greg, 11/09/2010, , Prospect Mtn Campground
Frantic city was a pleasure to work with. It was my first time hiring a band for a private party and they were so accomodating. My husband knew he was having a 40th birthday party, but he didn't know that I had a band waiting for him on the back patio. He was thrilled and loved the party. The music provided by Frantic City made the night. All of our guests were impressed with their performance. I would definitely recommend them.
-Christine C, 7/3/2010, Birthday Party (Adults), Southington, CT
Frantic City played for my husbands 30th birthday party. They learned a couple of special request songs and were a pleasure to deal with. Chris was always very quick to respond to my questions. They have the feel and sound of a larger band with the benefit of them not taking up too much space. I was very impressed w/ their level of talent and I would highly recommend them. If you have this group to your event - you won't be dissapointed!! THANK YOU FRANTIC CITY!!! - Sara D. Sandy Hook. CT.
-Sara D, 8/22/2009, Birthday Party - Adults, Sandy Hook, CT

First I'd like to thank Stacey, Remo and Chris .(THANK YOU!) Not only where they great musicians, a great band but they where GREAT people. Everything Chris said would happen did. From arrival time for set up, start time for the show, breaks, everything! I asked Chris if he could play a special song for her. Adam Sandlers "Grow old with you" from the movie the wedding singer. He googled the song and learned it in time for the party. It was awesome, it made her cry.I already asked to booked them for the same weekend next year for my sons 13th birthday.We had a GREAT time Everyone loved it from my mother and mother-in-law to my youngest neices and nephews.
-Keith B, 7/25/2009, Anniversary, East Haven, CT
I have never hired a band so I was uneasy hiring one I wasn't familiar with. After their playlist caught my eye and checking with a prior venue of theirs gave me good feedback, I hired Frantic City for my husbands surprise 40th Birthday party. They were amazing! They WAY exceeded my expectations. Frantic City is a very talented, fun, energetic, professional, accommodating, down to earth group. They interacted with the crowd to keep everyone entertained through the day. My husband and guests had a great time and some commented on how they would hire Frantic City if they had a party. Thanks Chris, Stacey & Remo for making our party one we will never forget!
-Lisa D, 7/18/2009, Birthday Party - Adults, Windsor Locks, CT

They were an amazing group and sounded fantastic at our event. Frantic City was extremely professional and a complete pleasure to do business with. The group interacted with our audience so well, which was very important to me. Frantic City has great sound and a great range of songs to keep people entertained. I recommend this band.
-Gina M, 4/27/2008, Festival, Danbury, CT
Great performance, Crowd loved it. They were scheduled 6:30 - 10 but had music playing early and kept playing themselves til 10:45. We will definitely try and get them back.
-Mitch H, 8/30/2008, Community Event, Granville, MA
what can i say.... Frantic City were absolutely rocking. My husband enjoyed them really much and our guests were pleased by their talent and professionalism. thanks again guys, hope you get more bookings with this feedback, i definetly recommend them!!!!! LIA WARREN for STEVE'S paRTY ON 1/13/07 AT the WAVERLY TAVERN in Cheshire, CT.
-Lia W, 1/13/2007, Birthday Party - Adults, Cheshire, CT
I would like to say that Frantic was exciting part of the weekend here at our Campground and made all the guest happy and have a good time as well. Also they where very professional and accommodating. Lastly I would def. bring them back again and recommend to other people.
-Justin O, 5/26/2008, Community Event, Plattekill, NY
Professional, friendly and all around great band!! All my guests commented on how good the band was.
-Cathy P, 8/26/2006, Fundraiser, Shelton, CT